GARMIN GNX Wireless Wind Pack
GARMIN GNX Wireless Wind Pack
Part #: 010-01616-10
The Information You Need to Set Sail
Includes GNX Wind instrument and gWind Wireless 2 transducer
GNX Wind provides 2 data fields and a digital wind rose to simultaneously display true and apparent wind data, Steer Pilot, boat speed and more
Displays true and apparent wind speed and wind angles, true wind direction, boat speed, speed over ground, VMG, heading, course over ground and closed haul
Includes easy-to-install gWind Wireless 2 transducer, which eliminates cables for masts up to
The Information You Need to Set Sail
Includes GNX Wind instrument and gWind Wireless 2 transducer
GNX Wind provides 2 data fields and a digital wind rose to simultaneously display true and apparent wind data, Steer Pilot, boat speed and more
Displays true and apparent wind speed and wind angles, true wind direction, boat speed, speed over ground, VMG, heading, course over ground and closed haul
Includes easy-to-install gWind Wireless 2 transducer, which eliminates cables for masts up to 50 feet
Internal solar-charged battery lasts 3 years and is easily replaced
When you have a GNX Wind instrument combined with a gWind Wireless 2 transducer, you'll know what's going on with the wind.
GNX Wind Instrument
GNX Wind gives you the wind data necessary to make confident decisions. Featuring high-visibility, glass-bonded backlit monochrome LCD display with customizable backlight colors, GNX Wind interfaces through the NMEA 2000 network to show 2 data fields and a digital wind rose simultaneously to display true and apparent wind data, steering guidance, boat speed and more. Low power consumption of 350 mW daylight (no backlight) and 400 mW nighttime (mid-level backlight) is perfect for sailboats. Customizable user settings allow you to configure the screen layout to your preferred setting. Display configurations include more than 15 important marine parameters for wind, speed and navigation. It can even wirelessly connect to a quatix 3 GPS marine smartwatch via ANT technology to stream wind data directly to your wrist.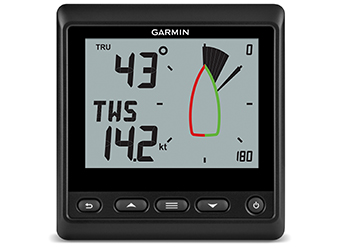 Wind Wireless 2 Transducer
Wind Wireless 2 offers an easy-to-install solution that eliminates running wires through masts up to 50 feet. Accurate wind signals are sent via an ANT connection directly to a GNX Wind instrument or to a compatible Garmin GPSMAP chartplotter. The transducer features renowned Nexus twin-fin technology with a 3-bladed propeller, providing accurate wind speed and stable wind angle in lighter wind conditions. Also available in a wide selection of Wind and Sail Packs (sold separately) that can be used as stand-alone wind systems or expanded to full network systems via NMEA 2000.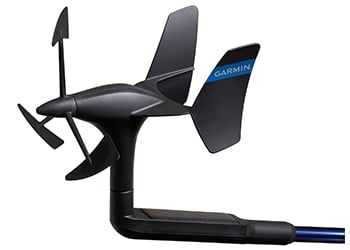 Primary Display: GNX Color Wind